Y Combinator
Elon Musk & The Midwit Meme – Dalton Caldwell and Michael Seibel
Insights from Startup Journey and the Idiot Approach.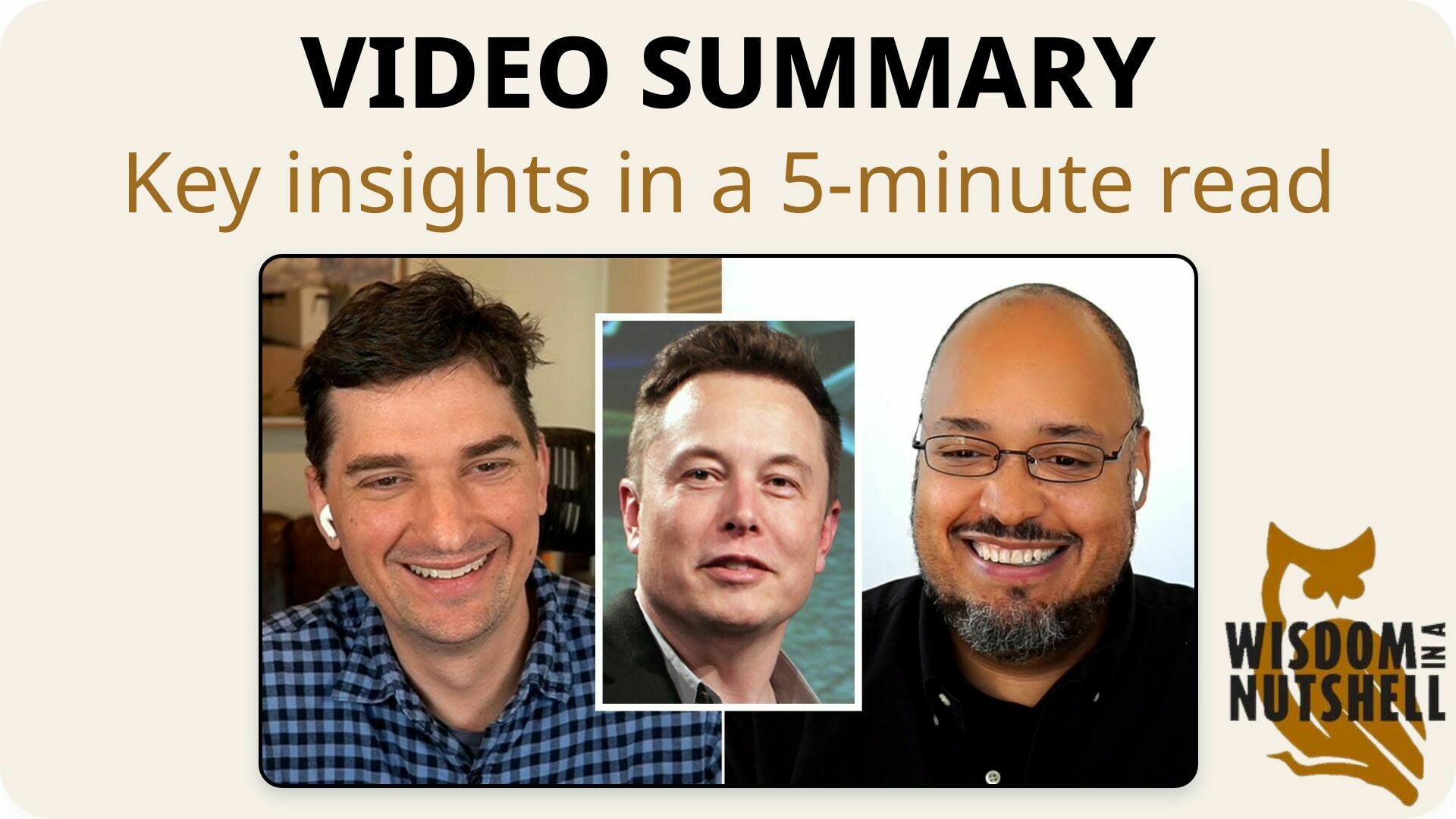 🌰 Wisdom in a Nutshell
Essential insights distilled from the video.
---
---
📚 Introduction
This blog post explores the journey of a startup founder and the importance of approaching tasks with a beginner's mindset. It delves into the concept of the idiot approach, which can lead to genius solutions, and discusses the challenges and lessons learned in various aspects of entrepreneurship. From fundraising to product market fit and legal considerations, there are valuable insights to be gained. Let's dive in!
---
🔍 Wisdom Unpacked
Delving deeper into the key ideas.
1. Embrace a beginner's mindset, unlearn, and approach tasks with an open mind.
The concept of a beginner's mindset, where one approaches tasks with fresh perspectives and openness to new ideas, is crucial. This mindset involves unlearning preconceived notions and approaching things without assumptions. The idiot approach, where one considers what an idiot would do, can often lead to the same conclusions as geniuses. Overthinking is often a founder's biggest mistake, and this video explores fundraising advice through a humorous meme. The idiot approach is a way to divine the genius approach by considering what an idiot would do. Everyone has the intellectual capacity to reach for the idiot approach.
Dive Deeper: Source Material
---
2. Balance overthinking with action for successful entrepreneurship.
The journey of a startup founder is often marked by overthinking, which can be detrimental when it hinders action. This experience is common among founders, who often feel lost and unsure of what to do. However, being young and inexperienced can be an advantage in entrepreneurship, as it allows for a mindset of optimism and a willingness to take risks. It's important to balance overthinking with action, as most of the work in starting a successful company is not in overthinking but in taking action and executing ideas. Witnessing the process personally can help understand how successful companies are built.
Dive Deeper: Source Material
---
3. Perception varies, but persistence and simple solutions can lead to success.
The perception of individuals can vary greatly, with some seeing them as geniuses and others as fools. This is exemplified by Elon Musk, who was initially doubted by the Russian government but persisted and eventually succeeded in buying rockets for SpaceX. Similarly, his approach to solving problems, such as using simple-minded solutions and considering unconventional ideas, has led to both successes and failures. This highlights the importance of perception and the need to consider different viewpoints when evaluating individuals and their ideas.
Dive Deeper: Source Material
---
4. Balance overthinking with action for product market fit and fundraising.
The mid-wit approach to product market fit is characterized by uncertainty and the creation of multiple metrics to assess it. However, if you have time to wonder about it, it probably means you don't have it. Similarly, when it comes to fundraising, founders often overthink and ask too many questions, leading to a focus on raising the necessary funds instead of overthinking. The key is to find a balance between overthinking and taking action.
Dive Deeper: Source Material
---
5. Startup launch involves traffic management, idea protection, and co-founder selection.
The process of launching a startup involves various considerations, such as handling traffic and user influx, protecting the idea from being copied, and optimizing for media coverage. It's crucial to find a co-founder with complementary skills and experience, and the decision to have a co-founder should be based on finding the right person. When applying to startup programs, it's important to focus on the important aspects of your startup rather than spending excessive time on the application.
Dive Deeper: Source Material
---
6. Understanding legal and regulatory landscape, health impact, and frameworks are key.
The legal and regulatory landscape of a business is crucial to consider, as breaking the law or violating regulations can have severe consequences. It's important to overthink and research these matters thoroughly, ensuring compliance. Additionally, the impact of your actions on people's health and wellbeing should be considered. A good framework can help navigate these complexities, such as determining whether filing patents for all intellectual property is necessary.
Dive Deeper: Source Material
---
---
💡 Actionable Wisdom
Transformative tips to apply and remember.
Embrace a beginner's mindset and consider the idiot approach in your daily tasks. Let go of preconceived notions and approach challenges with openness to new ideas. Find a balance between thinking and taking action, and don't let overthinking hinder your progress. When facing uncertainties in your entrepreneurial journey, trust your instincts and make informed decisions. Lastly, prioritize legal compliance and the impact of your actions on others' well-being.
---
📽️ Source & Acknowledgment
This post summarizes Y Combinator's YouTube video titled "Elon Musk & The Midwit Meme – Dalton Caldwell and Michael Seibel". All credit goes to the original creator. Wisdom In a Nutshell aims to provide you with key insights from top self-improvement videos, fostering personal growth. We strongly encourage you to watch the full video for a deeper understanding and to support the creator.
---