Y Combinator
Geoff Ralston and Adora Cheung Discuss Startup School
Key Insights from Startup School.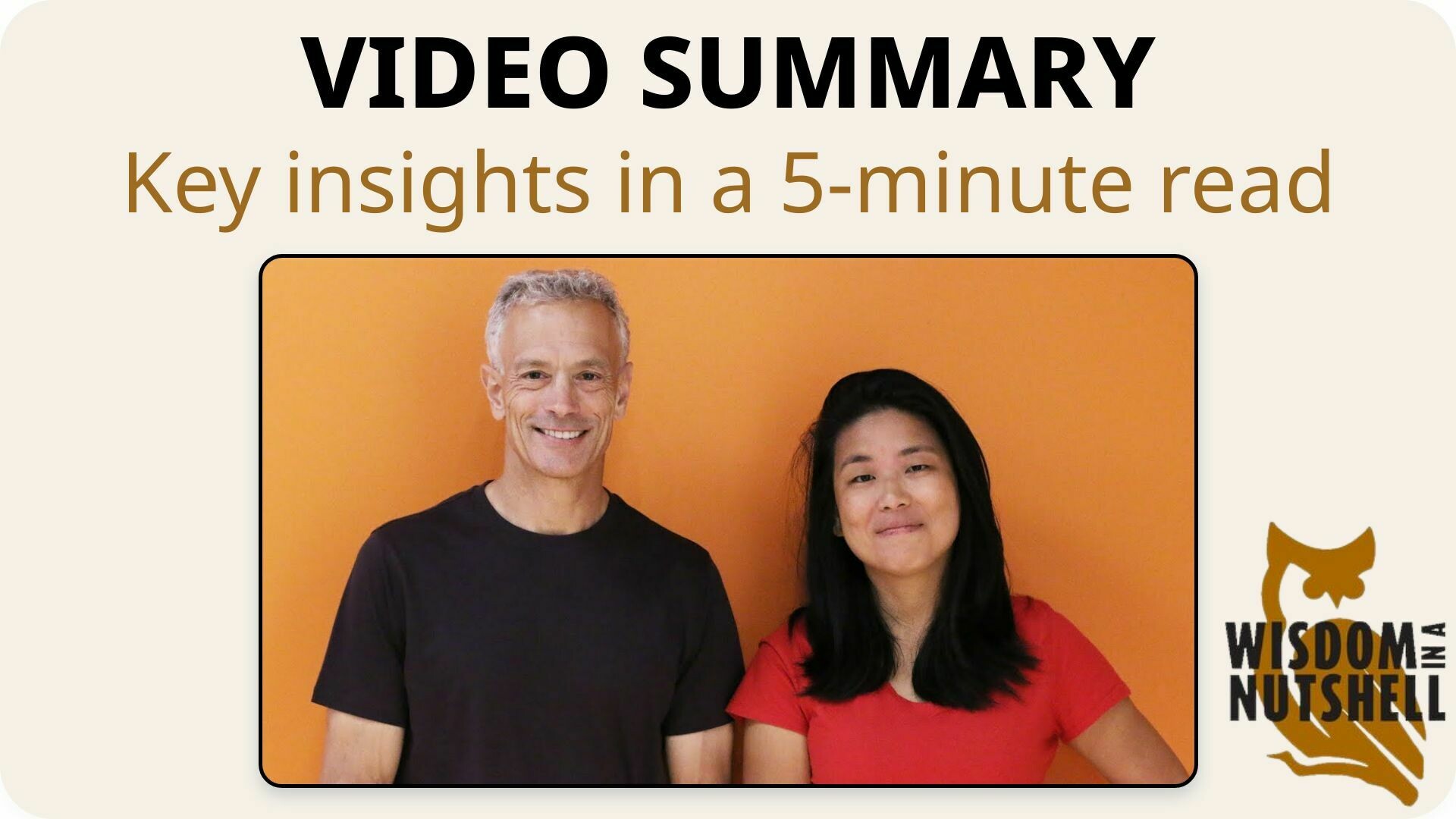 🌰 Wisdom in a Nutshell
Essential insights distilled from the video.
---
---
📚 Introduction
Startup School is an open online course that provides valuable resources and support for aspiring entrepreneurs. It aims to maximize innovation and value creation by startups worldwide. In this blog post, we will explore the key insights and learnings from Startup School, including the different paths available, the importance of community and mentorship, and the impact of the program on startups and the ecosystem.
---
🔍 Wisdom Unpacked
Delving deeper into the key ideas.
1. Startup School offers open online course for startup innovation and value creation.
Startup School is an open online course that aims to maximize innovation and value creation by startups worldwide. The course is a 10-week program where participants can audit or be part of the course. Participants receive access to materials, lectures, and a group with an advisor who provides guidance. They also have access to a community forum where they can connect with other founders. The course focuses on reducing barriers to starting a startup and providing access to community, mentorship, and knowledge. The content for this year is different from previous years, but all previous content is available online. The course covers various aspects of starting a startup, including product, growth, and fundraising, in new and valuable ways.
Dive Deeper: Source Material
---
2. Startup School launches new course with renowned speakers.
Startup School is launching a new course with YC partners and founders, featuring notable speakers like Paul Graham, Jessica Livingston, Sam Altman, and Michael Syble. The course will provide valuable insights and wisdom for founders. It's important to clarify the different paths of going through startup school.
Dive Deeper: Source Material
---
3. Startup school offers mentorship, access, and grants for early-stage founders.
Startup school offers two paths: auditing the course for access to live streams, lectures, and notes, or applying and being part of the school officially, which provides mentorship, access to a forum, exclusive deals, and a chance to receive a $10,000 equity-free grant. The grant is awarded based on progress and promising potential. The school is targeted at early-stage founders with ideas or working on ideas, regardless of user count. The knowledge gained from startup school can be useful for companies in later stages as well. The main goal is to help lower the threshold for starting a successful startup.
Dive Deeper: Source Material
---
4. Startup school teaches entrepreneurs to iterate and talk to users.
Startup school, a massively open online course, aims to maximize innovation by teaching entrepreneurs how to iterate and talk to users. One success story is Conmission IP, a tech-enabled patent law firm that iterated towards their current product during startup school. The course is open to everyone, even if you don't get accepted into the main course, you can still audit the course and access all the content.
Dive Deeper: Source Material
---
5. Startup capital from programs like Y Combinator's startup school can boost success.
Starting a startup requires initial capital, which can be obtained through programs like Y Combinator's startup school. This program provides $10,000 to 100 startups, helping them succeed and thrive. This not only benefits the startups but also contributes to the growth of the startup ecosystem, making the world a better place.
Dive Deeper: Source Material
---
6. Machine learning course for startups offers online and in-person options.
A course on machine learning for startups will be offered, with a live in-person component in Mountain View, California. The course is open to startup companies worldwide, but it is recommended that participants focus on their startup rather than attending in person. The lectures and slides will be made available online shortly after each lecture. Attending the live lecture is optional and does not affect course completion or eligibility for a $10,000 grant.
Dive Deeper: Source Material
---
7. Startup school helps improve your startup, with YC admission as a bonus.
Startup school, a 10-week program, aims to help you apply to Y Combinator (YC) and improve your startup. To be eligible for a presentation day and a $10,000 grant, you need to attend nine out of ten weekly group meetings with your advisor and consume at least nine out of ten lectures. The course provides a forcing function to focus, achieve, and grow your startup. The admission rate for YC is around 1-2%, but the main reason to attend startup school is because it will make your startup better.
Dive Deeper: Source Material
---
8. Startup success involves product-market fit, user acquisition, and emotional resilience.
Starting a startup involves overcoming initial challenges and taking small steps towards building a product that people want. The focus is on finding product-market fit and learning about user acquisition and growth. The process also involves running a company, hiring people, and fundraising. Applying to YC can increase the chances of success. The journey is often a rollercoaster, with emotional and psychological aspects to consider.
Dive Deeper: Source Material
---
9. Startup school's success lies in personalized support from fellow founders.
Startup school, a program for aspiring entrepreneurs, offers personalized support through online group office hours. Founders discuss their progress, goals, and obstacles, with mentors facilitating conversations and providing guidance. However, the main support comes from fellow founders who have faced similar challenges, leveraging the collective knowledge and experience of the startup community. This personalized support, provided by YC founders who volunteer their time, is a key factor in the success of startup school.
Dive Deeper: Source Material
---
10. Startup school offers valuable resources for entrepreneurs, including a high-quality network and scalable software.
Startup school, led by Stephen Pham, offers valuable resources for entrepreneurs, including a high-quality network of mentors and a software platform that scales to work with thousands of companies. The software team, led by Ramon and Kyle, develops software based on feedback from companies and advisors. The startup content available online is also worth checking out. The community and mentorship provided by startup school are considered game-changing.
Dive Deeper: Source Material
---
---
💡 Actionable Wisdom
Transformative tips to apply and remember.
Take advantage of the resources and support offered by Startup School to enhance your entrepreneurial journey. Whether you choose to audit the course or apply officially, engage with the community, seek mentorship, and leverage the knowledge shared by successful founders. Remember that starting a startup is a challenging process, but with the right guidance and support, you can increase your chances of success and make a positive impact in the world.
---
📽️ Source & Acknowledgment
This post summarizes Y Combinator's YouTube video titled "Geoff Ralston and Adora Cheung Discuss Startup School". All credit goes to the original creator. Wisdom In a Nutshell aims to provide you with key insights from top self-improvement videos, fostering personal growth. We strongly encourage you to watch the full video for a deeper understanding and to support the creator.
---