Y Combinator
Growth Office Hours with Anu Hariharan and Gustaf Alstromer
Insights on Growth Hacking and Sustainable Growth.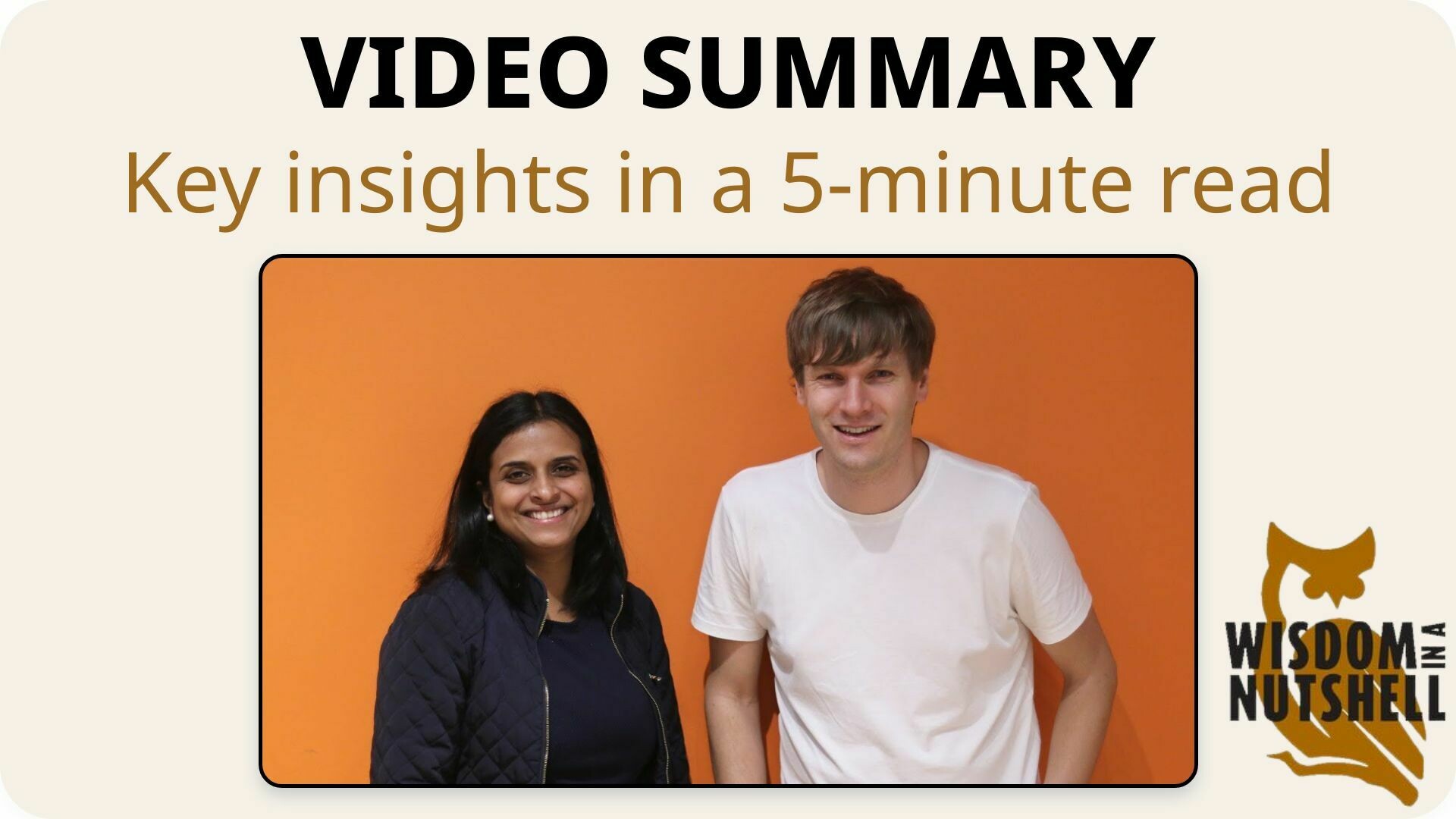 🌰 Wisdom in a Nutshell
Essential insights distilled from the video.
---
---
📚 Introduction
In this blog post, we will explore the concept of growth hacking and its role in achieving sustainable growth. We will discuss the importance of growth teams, setting boundaries for experimentation, and the challenges of scaling internationally. Additionally, we will delve into the significance of understanding user behavior and retention, building a data infrastructure, and the role of intuition and data in decision-making. Finally, we will uncover the key to startup success and the importance of clear accountability metrics.
---
🔍 Wisdom Unpacked
Delving deeper into the key ideas.
1. Growth hacking is long-term investment, not a quick fix; requires diverse teams and user research.
The concept of growth hacking is often misunderstood as a quick fix, but true sustainable growth requires long-term investment. Growth teams, which are relatively new, are essential for this. SEO, for instance, is not about manipulating people but providing valuable information. Each team has its own set of acceptable growth tactics based on the product's DNA and user experience. It's important to set boundaries and guidelines for experimentation to achieve growth. When setting heuristics for a founder, it's important to be open to adjusting them as the product and vision evolve. Expanding internationally may require adapting the product in different ways locally. It's crucial to have user groups that use research to understand the product and users. When scaling out a growth team, it's important to have a diverse team with disciplines like engineering, product, design, data science, and user research.
Dive Deeper: Source Material
---
2. Retention is key to product growth, tracked by attention rate and benchmarked against industry standards.
The growth of a product or service is not solely dependent on new user growth, but also on retention. It's crucial to understand the expected behavior and frequency of use, which can be determined by analyzing data on typical active and retained users. This information can be used to calculate the scale and determine the attention rate. It's important to track this information early on, even in the early stages of a product or service. The growth team should focus on driving the number of second fixes to improve retention, as this helps in scaling and generating organic growth. It's also important to benchmark retention against industry standards, as a social network should have at least 50-60% retention.
Dive Deeper: Source Material
This summary was generated from the following video segments. Dive deeper into the source material with direct links to specific video segments and their transcriptions.
| Segment | Video Link | Transcript Link |
| --- | --- | --- |
| What is growth, and what is growth hacking? | 🎥 | 📄 |
| What drives retention- Repeat purchase #1 | 🎥 | 📄 |
| Growth Engineering Checklist | 🎥 | 📄 |
---
3. Gradually transition from external to internal data infrastructure.
Building a data infrastructure for a company involves a gradual transition from external tools to internal systems. It's crucial to have a single source of truth for user data, ensuring everyone works with the same data. This can be achieved by starting with external tools like Mixpanel or Optimizely and then building internal tools over time. The goal is to make data accessible and available to everyone in the organization, with a common source of truth and engagement from the CEO in using data to inform decisions.
Dive Deeper: Source Material
---
4. Balance intuition and data, use experimentation for informed decisions, and resolve tensions between teams.
Balancing intuition and data is crucial for CEOs, especially in product-driven companies. While data should guide decision-making, it's important to run experiments and make decisions based on intuition. A growth team can help course correct if a change has a negative impact. Experimentation is essential when a product becomes complex, as software can track the impact of changes. Regular experiment review meetings can help gather feedback and make informed decisions. When starting a growth team, it's important to have a pragmatic manager who can work with the engineers. The growth team should start with two engineers and a product manager. The CEO should be on board with the idea of a growth team. The team should be willing to experiment and move fast, with a focus on velocity rather than quality. They should use data to validate which ideas are working well. The growth team is responsible for growth, while other teams own other aspects. The tension between the growth team and the product team can be resolved through effective communication between the heads of product and growth. The success of this structure depends on the CEO's endorsement and separate accountability metrics.
Dive Deeper: Source Material
This summary was generated from the following video segments. Dive deeper into the source material with direct links to specific video segments and their transcriptions.
| Segment | Video Link | Transcript Link |
| --- | --- | --- |
| Yi-Da takes away the title | 🎥 | 📄 |
| You make data products | 🎥 | 📄 |
| Building a Growth Team | 🎥 | 📄 |
| Debate of Growth Teams Being Part of Product? | 🎥 | 📄 |
| Conclusions, conclusion | 🎥 | 📄 |
---
5. Clear metrics and data-driven decision-making are key to startup success.
The success of a startup is contingent on having clear accountability metrics for each group, which should roll up into a comprehensive metric. This approach, often referred to as 'growth thinking', requires a shift in mindset, particularly for founders who may be uncomfortable with data-driven decision-making. Clearly defined metrics are crucial for understanding and articulating roles within a team, as well as for measuring performance. For example, in a ride-sharing company, the marketplace team ensured supply and demand were matched by tracking the percentage of times in ETA that the marketplace owned, which was a check on liquidity.
Dive Deeper: Source Material
---
---
💡 Actionable Wisdom
Transformative tips to apply and remember.
To apply these insights in your daily life, focus on understanding the behavior and needs of your target audience. Use data to inform your decisions, but also trust your intuition and be willing to experiment. Create a growth-oriented team with diverse skills and establish clear accountability metrics to measure success. Continuously track user retention and adapt your product or service based on user feedback. By adopting a growth mindset and prioritizing sustainable growth, you can enhance the success of your endeavors.
---
📽️ Source & Acknowledgment
This post summarizes Y Combinator's YouTube video titled "Growth Office Hours with Anu Hariharan and Gustaf Alstromer". All credit goes to the original creator. Wisdom In a Nutshell aims to provide you with key insights from top self-improvement videos, fostering personal growth. We strongly encourage you to watch the full video for a deeper understanding and to support the creator.
---