Y Combinator
How Should Business Schools Prepare Students for Startups? – Jeff Bussgang and Michael Seibel
Insights on Entrepreneurship and the Role of Business Education.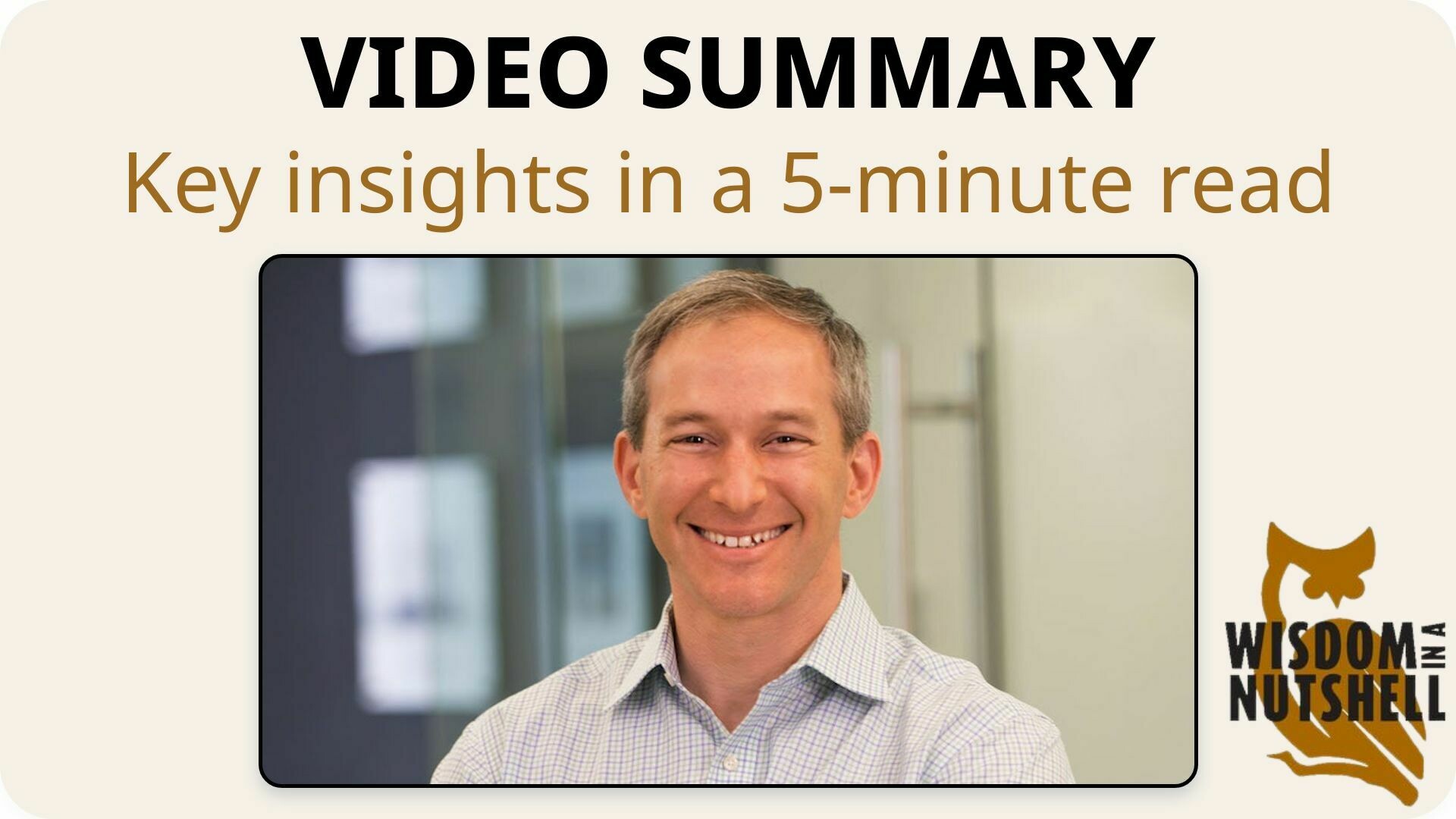 🌰 Wisdom in a Nutshell
Essential insights distilled from the video.
---
---
📚 Introduction
Entrepreneurship is a challenging journey that requires a unique set of skills and knowledge. However, traditional business education often falls short in preparing students for the realities of starting a tech company. In this blog post, we will explore the insights shared on the importance of practicality, technical skills, and finding the right learning environment for aspiring entrepreneurs. We will also discuss the decision-making process between pursuing an MBA or joining a startup, as well as the value of staying in a company versus further education.
---
🔍 Wisdom Unpacked
Delving deeper into the key ideas.
1. Business schools need to adapt to startup realities for effective entrepreneurship.
The traditional business school curriculum is not effectively preparing students to start tech companies, as observed in Y Combinator's application process. Many MBA students lack basic knowledge of YC's core tenets, such as the importance of being practical and attuned to startup land. This is despite the fact that many successful companies have been founded by MBAs. YC's model for entrepreneurship is difficult to replicate, and it's challenging for schools to recruit entrepreneurs to lead entrepreneurship programs. However, YC's framework represents general principles for all aspiring entrepreneurs, not just MBAs.
Dive Deeper: Source Material
---
2. Business schools can address entrepreneurial challenges by integrating technical skills.
The challenges faced by entrepreneurs, particularly those with MBA backgrounds, can be attributed to a lack of technical co-founders, commitment, and traction. Business schools can address these issues by increasing analytical and coding skills in their curriculum, teaching product prototyping and technical architectural skills, and integrating technical people into the MBA program. However, breaking out of the research mindset and transitioning to building an MVP can be challenging, and it's crucial to understand that building a technology business without technical co-founders can be difficult. Overextending hustle to compensate for core issues can be frustrating and decrease the chances of success.
Dive Deeper: Source Material
This summary was generated from the following video segments. Dive deeper into the source material with direct links to specific video segments and their transcriptions.
| Segment | Video Link | Transcript Link |
| --- | --- | --- |
| Are MBA programs too focused on plans, not sufficient technical input? | 🎥 | 📄 |
| Business school tech neurosis | 🎥 | 📄 |
| Breaking | 🎥 | 📄 |
---
3. Entrepreneurship requires advanced knowledge and connectivity.
The journey of entrepreneurship, often seen as a beginner-level subject, requires a certain level of knowledge and experience. However, the odds of becoming an entrepreneur are similar to becoming a professional basketball player. The challenge is finding a class that caters to advanced learners. The best people want to be around other talented individuals, but if a class is too basic, it can be difficult to attract top talent. For those in non-tech environments, it can be challenging to find opportunities. However, there are engineering and computer science programs in various locations, and online tools provide access to resources. One example is an entrepreneur in Boston who built a network of angel investors and software developers in Kentucky. He hustled to connect with the AI community in Boston and funded his company in Kentucky. It requires extra effort and connectivity to succeed in these environments.
Dive Deeper: Source Material
---
4. VCs prioritize disruptive, transformative ideas in entrepreneurship.
The venture capital (VC) industry and university entrepreneurship programs have different goals, with VCs focusing on massive market opportunities and transformative industries, while universities prioritize learning and providing a coddling environment. VCs prefer technical founders with a vision and the ability to see white space. An example of a transformative business model is Blue Apron, discovered by a Harvard MBA.
Dive Deeper: Source Material
---
5. MBA or startup? Both offer valuable experiences, but weigh costs and outcomes.
The decision to pursue an MBA or join an early-stage startup is a complex one, with both options offering valuable experiences. While an MBA can provide a strong network and skill set, it may not guarantee success as an executive. On the other hand, joining an early-stage startup can be a more fruitful experience for entrepreneurs, offering hands-on learning and the potential for immediate ROI. However, the long-term impact of these choices is uncertain, and it's crucial to weigh the costs and potential outcomes before making a decision.
Dive Deeper: Source Material
---
6. Balance career growth with personal development and knowledge acquisition.
The decision to stay in a company or pursue further education depends on various factors. If you're in a successful company with a clear path and mentors, it's worth staying. However, if you're in a growing company with uncertainty, it's beneficial to take a break and focus on personal development. If you're not going to a top five business school and want to work in tech startups, it's advisable to try to get a job in an early stage company in a startup city. The NBA is not seen as a positive resume item, so you should make the most of your experience. Many career switchers attend business school, but end up in middle management positions. To improve your knowledge, it's important to read the canon of a subject, which represents the core works and ideas in a field. By studying the canon, you can gain a solid foundation and develop a deeper understanding.
Dive Deeper: Source Material
---
---
💡 Actionable Wisdom
Transformative tips to apply and remember.
For aspiring entrepreneurs, it is essential to complement traditional business education with practical skills and knowledge relevant to the tech startup ecosystem. Consider learning coding and product prototyping, and actively seek opportunities to connect with technical co-founders. When making career decisions, weigh the potential benefits of joining an early-stage startup for hands-on learning and immediate ROI against the advantages of pursuing an MBA for a strong network and skill set. Additionally, continuously invest in personal development by reading the foundational works in your field of interest.
---
📽️ Source & Acknowledgment
This post summarizes Y Combinator's YouTube video titled "How Should Business Schools Prepare Students for Startups? – Jeff Bussgang and Michael Seibel". All credit goes to the original creator. Wisdom In a Nutshell aims to provide you with key insights from top self-improvement videos, fostering personal growth. We strongly encourage you to watch the full video for a deeper understanding and to support the creator.
---