Y Combinator
How To Deal With Setbacks
Navigating Setbacks and Challenges in the Startup Journey.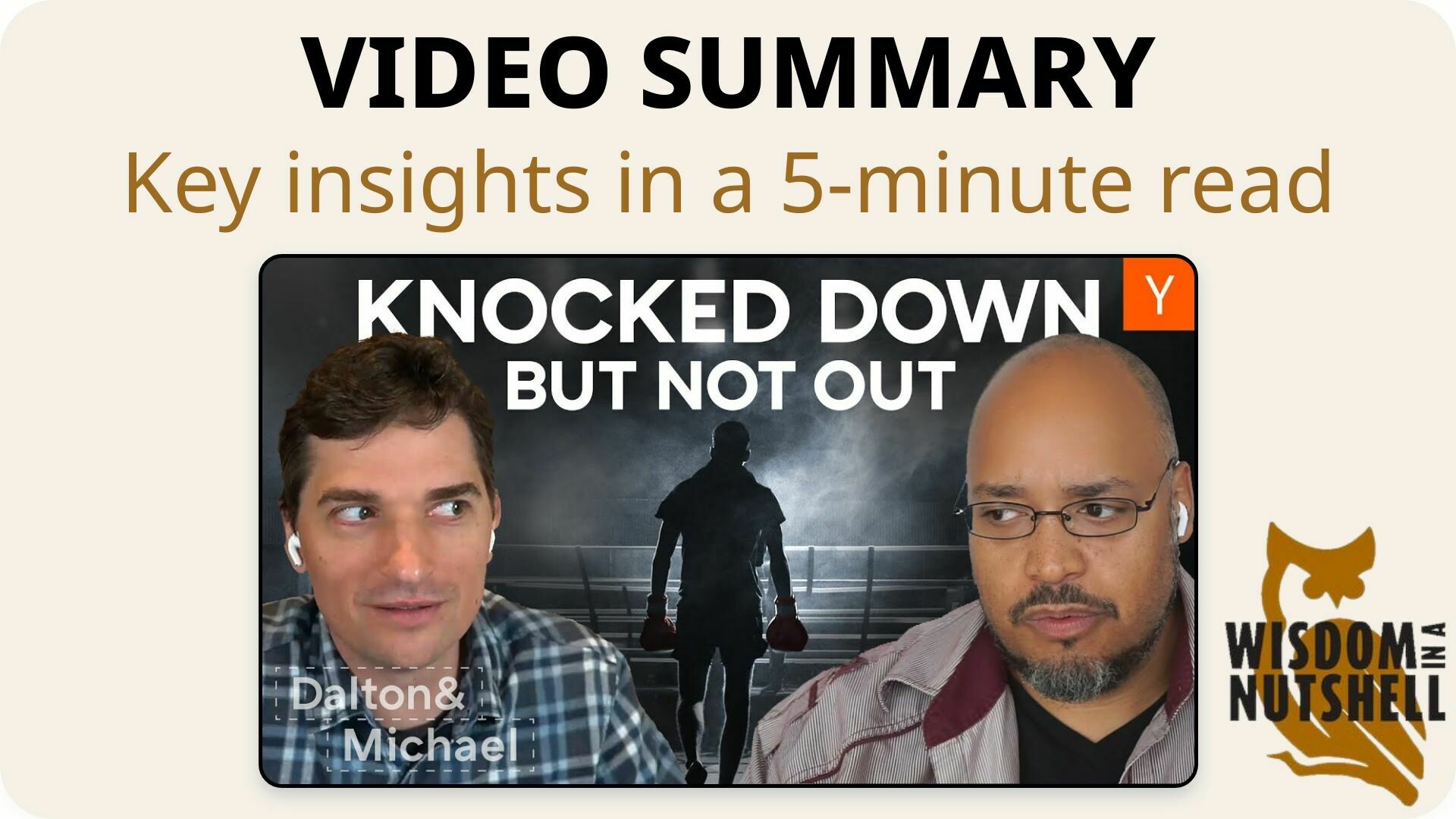 🌰 Wisdom in a Nutshell
Essential insights distilled from the video.
---
---
📚 Introduction
The startup journey is filled with setbacks and challenges, but it's how we navigate through them that determines our success. In this blog post, we will explore the various obstacles faced by entrepreneurs and the mindset needed to overcome them. From rejection and legal issues to fundraising frustrations and the reality of startup launches, we will uncover valuable insights and actionable tips for aspiring founders. Let's dive in!
---
🔍 Wisdom Unpacked
Delving deeper into the key ideas.
1. Setbacks are part of the startup journey, view them as opportunities for growth.
The startup journey is marked by setbacks, which are a natural part of the game. It's crucial to understand that each setback is an opportunity to learn and improve. The best founders view rejection as a chance to grow, while the worst founders feel defeated. Success often comes with ongoing challenges, and even after significant milestones, the hard work continues. It's important to have the right mindset, viewing setbacks as part of the journey, not unique events. The journey is long, and perseverance is key to building a successful company.
Dive Deeper: Source Material
---
2. Entrepreneurship involves facing challenges and being prepared to navigate them.
The journey of entrepreneurship involves facing various challenges, including legal issues and criticism. It's important to remember that these setbacks are a part of doing big things. The concept of 'dodging every punch' is often misinterpreted, as it's impossible to avoid every challenge. Instead, it's about understanding the types of punches that may land and being prepared to face them. This mindset is crucial for navigating the ups and downs of entrepreneurship.
Dive Deeper: Source Material
---
3. Fundraising is a frustrating process, with most failing, and co-founders face unique challenges.
The process of fundraising can be frustrating and often leads to disappointment, with most A's failing but only the successful ones getting publicized, creating a distorted perception. Co-founders can experience frustration when their fundraising takes longer than others, and it's common for people to worry about the risk of starting a startup with friends. The concept of the magical deal can be both a blessing and a curse, bringing unexpected challenges and disappointments. It's crucial to be cautious and not solely rely on one deal to save the company, considering the potential risks and consequences.
Dive Deeper: Source Material
---
4. Startup launch is a long, hard process, not a glamorous event.
The launch of a startup is often misconstrued as a glamorous event, but in reality, it's a long, hard process with little attention. It's important to have realistic expectations and understand that not everyone will care. The key is to keep launching and iterating until something works. The movie analogy is fitting, as the actual experience of a startup launch is not as exciting as it's portrayed in movies. It involves a lot of hard work and is often overlooked until it gains traction.
Dive Deeper: Source Material
---
5. Resilience and learning in the face of startup setbacks.
The key to dealing with setbacks in startups is to react in a way that influences others, teaching resilience and handling challenges. It's crucial to assess the situation, identify fears, and focus on learning how to handle difficult situations. This mindset is a superpower that can be gained even if the company fails. It's important to remember that everyone deals with setbacks, and you have control over your reaction to them. By taking the initiative to improve yourself, you can also uplift your team.
Dive Deeper: Source Material
---
---
💡 Actionable Wisdom
Transformative tips to apply and remember.
Embrace setbacks as opportunities for growth and learning. Develop a mindset that views challenges as part of the journey, not roadblocks to success. Take the initiative to improve yourself and react in a way that influences others positively. Remember, everyone faces setbacks, but it's how you handle them that sets you apart.
---
📽️ Source & Acknowledgment
This post summarizes Y Combinator's YouTube video titled "How To Deal With Setbacks". All credit goes to the original creator. Wisdom In a Nutshell aims to provide you with key insights from top self-improvement videos, fostering personal growth. We strongly encourage you to watch the full video for a deeper understanding and to support the creator.
---