Y Combinator
John Preskill on Quantum Computing
Demystifying Quantum Computing and Its Potential Impact.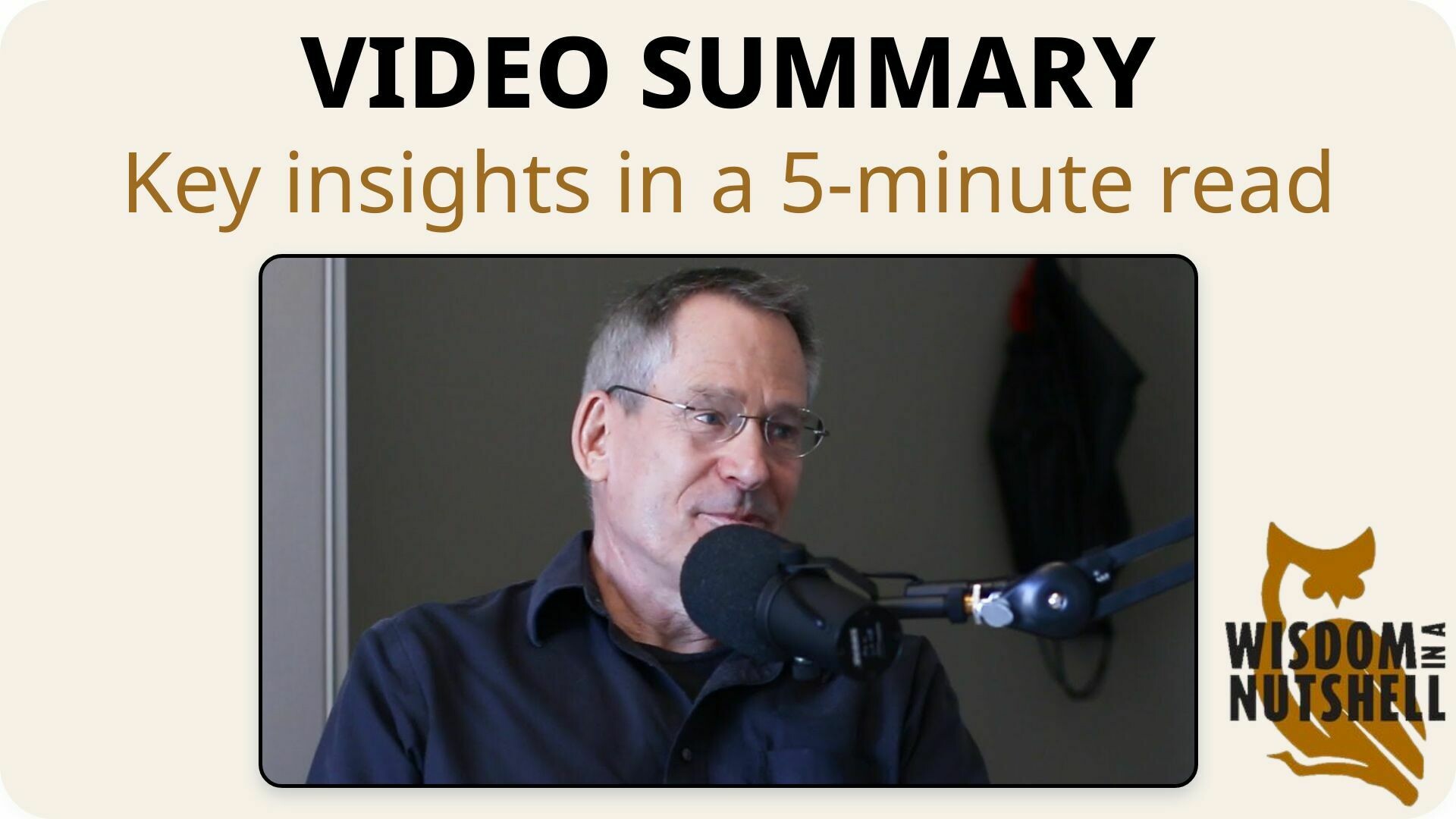 🌰 Wisdom in a Nutshell
Essential insights distilled from the video.
---
---
📚 Introduction
Quantum computing is a revolutionary field that has the potential to solve complex problems and transform various industries. In this blog post, we will explore the principles of quantum computing, the challenges in building quantum computers, and the potential impact of quantum information and quantum computers. We will also discuss the progress in quantum computing hardware and the future of quantum communication. Additionally, we will delve into the intersection of quantum mechanics and games, the importance of STEM education, and the role of physics in entrepreneurship. Let's unravel the mysteries of quantum computing and discover its vast possibilities.
---
🔍 Wisdom Unpacked
Delving deeper into the key ideas.
1. Quantum computing, a powerful tool, requires unique problem-solving approaches.
Quantum computing, a concept proposed by Richard Feynman, relies on the principles of superposition and interference to perform computations. It has the potential to solve complex problems, especially in cryptography. However, building a quantum computer is challenging due to the need to isolate the quantum system from the environment. Feynman's approach to problem-solving was unique, involving thinking from first principles and a love for storytelling. He was also interested in various fields, including biology and computation.
Dive Deeper: Source Material
---
2. Quantum error correction and entanglement are key to understanding space-time geometry.
Quantum error correction, a theory that encodes quantum state information in correlations between parts of a quantum system, is becoming a reality. This concept, which is different from classical systems, is crucial for accessing and manipulating information stored in quantum systems. Quantum entanglement, the phenomenon where correlations among quantum system parts are different from classical correlations, is believed to be the key to understanding the geometry of space-time. However, studying this phenomenon is challenging due to the lack of experimental guidance. Quantum non-locality, also known as quantum entanglement, is a phenomenon where the correlations among the parts of a quantum system are different from any possible classical correlations. This means that if two qubits are entangled, measuring one will result in perfectly correlated results with the other, regardless of the distance between them. However, entanglement does not allow for instantaneous communication or transportation of information. It simply means that the qubits are correlated in a certain way. The misconception that entanglement allows for instantaneous communication is widespread. Another misconception is that quantum computing is powerful because it allows for superposition, which is the ability to represent multiple states simultaneously.
Dive Deeper: Source Material
This summary was generated from the following video segments. Dive deeper into the source material with direct links to specific video segments and their transcriptions.
| Segment | Video Link | Transcript Link |
| --- | --- | --- |
| Can we really build a quantum computer? | 🎥 | 📄 |
| What is quantum error correction? | 🎥 | 📄 |
| A new frontier in physics: entanglement | 🎥 | 📄 |
| Space-time is an emergent geometry | 🎥 | 📄 |
| Quantum Non-Locality | 🎥 | 📄 |
---
3. Quantum computers leverage interference for enhanced computation.
Quantum computers, unlike classical computers, can perform a vast number of computations simultaneously, leveraging the concept of interference. This interference, achieved by delaying the measurement, allows for the cancellation of wrong answers and the enhancement of the right answer. This property, known as the interference phenomenon, is the key to the operation of quantum computers. The double slit experiment illustrates this concept, where the probability of a particle going through one hole or the other creates a wiggly graph when detected, demonstrating the power of quantum computing.
Dive Deeper: Source Material
---
4. Quantum information and computers may revolutionize society.
The impact of quantum information and quantum computers is difficult to predict due to their unique properties of interference and entanglement. Just like transistors on a chip or the internet, their transformative effects on society are unknown. However, we have some ideas about their potential to revolutionize fields like cryptography, drug discovery, and artificial intelligence.
Dive Deeper: Source Material
---
5. Quantum computing's potential in materials science and pharmaceuticals.
Quantum computing has the potential to revolutionize fields like materials science and pharmaceuticals by designing better materials and catalysts. Quantum computers excel at solving problems related to the quantum behavior of particles, which can have practical applications. However, solving these problems is complex and unlikely to be solved by a brilliant graduate student on a digital computer. To move the field forward, substantial progress needs to be made in solving specific problems, and different approaches to building quantum hardware need to be explored. Small-scale quantum computers with 50 to 100 qubits will be available soon, which will be used to try out different ideas and speed up optimization problems. However, these computers have an error rate, which may be overcome using hybrid classical methods with classical feedback.
Dive Deeper: Source Material
---
6. Quantum computing progress hinges on qubit reliability, control, and materials.
Quantum computing, despite its challenges, has made significant progress in recent years. The key to optimizing quantum computers is not just the number of qubits, but also the reliability of the gates. Better qubits with lower gate error rates would be a significant improvement. To control qubits and perform computations, it is important to isolate them while also allowing them to interact with each other. The coherence time of qubits, which determines how well they interact with the outside world, has increased significantly over the past 15 years. Better materials, fabrication, and control are crucial for achieving this progress. Superconducting circuits and trapped ions are the most advanced technologies for quantum computing in the near term, with the potential for topological qubits to surpass them in the future. The topological approach is appealing from a theoretical perspective. Multiple companies are working on quantum technology, including hardware, fabrication, control technology, software, applications, and user interface.
Dive Deeper: Source Material
---
7. Quantum computers and communication pose privacy challenges and opportunities.
Quantum computers, though not yet practical for personal use, pose a threat to current encryption schemes and may require the development of new protocols. Quantum communication, on the other hand, can provide privacy by using qubits instead of bits. Quantum key distribution ensures the security of the key by detecting any tampering. Quantum computers also have potential in other areas like improved sensing. However, scaling up quantum communication to global distances is challenging and requires quantum error correction and quantum repeaters. The future of privacy may involve the use of quantum computers, but it is still a developing field.
Dive Deeper: Source Material
This summary was generated from the following video segments. Dive deeper into the source material with direct links to specific video segments and their transcriptions.
| Segment | Video Link | Transcript Link |
| --- | --- | --- |
| Quantum Smart Cards | 🎥 | 📄 |
| Public Key Crypto | 🎥 | 📄 |
| Cryptography and Privacy | 🎥 | 📄 |
| Quantum Repeaters and Error Correcting | 🎥 | 📄 |
---
8. Quantum games and critical thinking in STEM education are key.
Quantum games can be a fun and educational way for kids to learn about quantum mechanics, providing opportunities for exploration and discovery of new applications. STEM education should focus on teaching the general population to reason effectively and critically evaluate information, especially in the context of democracy. Having scientifically trained individuals in government can be beneficial for science and educational policy. Teaching quantum computing to kids can be challenging due to its foreign nature, but it's possible to make it simple and accessible. Some kids can code and play with machine learning tools without knowing the math.
Dive Deeper: Source Material
---
9. Intersection of physics and entrepreneurship can lead to significant impact.
The intersection of physics and entrepreneurship is a valuable one, with the potential for significant impact. The ability to communicate across different areas of expertise is crucial, especially in quantum computing. Teaching a class on quantum computing and particle physics can transform one's understanding of these topics, providing a foundation of knowledge that enables tackling new papers and topics without feeling intimidated. This foundation can also lead to new insights and ideas. The presence of technically trained individuals in government, such as those in the Department of Defense and the Department of Energy, can make a difference in science policy. The Department of Energy under the Obama administration supported startup companies to improve battery technology and solar power, symbolizing the importance of these areas. Quantum startups are concentrated in the Bay Area due to the presence of the tech industry and potential investors. If physicists are considering starting a company, they should consider building a diverse team with different expertise, such as hardware, fabrication, control, software, and applications.
Dive Deeper: Source Material
This summary was generated from the following video segments. Dive deeper into the source material with direct links to specific video segments and their transcriptions.
| Segment | Video Link | Transcript Link |
| --- | --- | --- |
| What are the best uses of science and its study of science administration in government? | 🎥 | 📄 |
| What kind of people make the best business entrepreneurs? | 🎥 | 📄 |
| Feynman and Susskind, quantum computing | 🎥 | 📄 |
| Things you learned from teaching with Steve | 🎥 | 📄 |
| I really felt I was kind of close enough to the cutting edge on most of those topics | 🎥 | 📄 |
| When I was a student, I read a lot... | 🎥 | 📄 |
| I want to go back to school... | 🎥 | 📄 |
---
---
💡 Actionable Wisdom
Transformative tips to apply and remember.
Stay updated on the advancements in quantum computing and its potential applications in various fields. Explore educational resources and games to learn more about quantum mechanics. Foster critical thinking and reasoning skills in STEM education. Consider the intersection of physics and entrepreneurship as a potential avenue for impact. Advocate for science and educational policies that promote scientific literacy and innovation.
---
📽️ Source & Acknowledgment
This post summarizes Y Combinator's YouTube video titled "John Preskill on Quantum Computing". All credit goes to the original creator. Wisdom In a Nutshell aims to provide you with key insights from top self-improvement videos, fostering personal growth. We strongly encourage you to watch the full video for a deeper understanding and to support the creator.
---