Y Combinator
The Cult of Conformity in Silicon Valley
The Evolution of Nonconformity in the Tech and Startup World.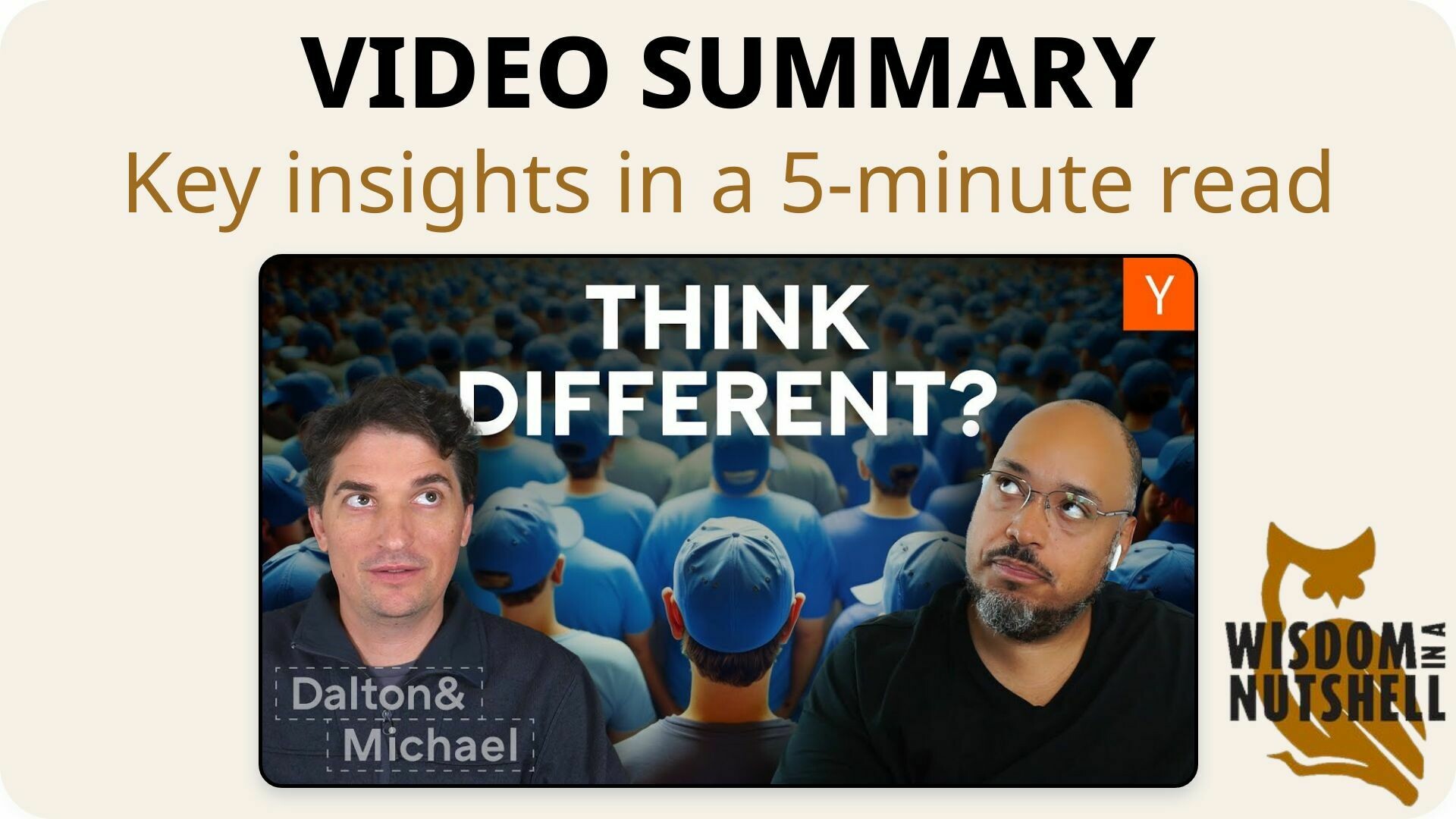 🌰 Wisdom in a Nutshell
Essential insights distilled from the video.
---
---
📚 Introduction
The tech and startup world has undergone a significant transformation in terms of the types of individuals it attracts and the values it promotes. This blog post explores the evolution of nonconformity in the industry and the importance of finding like-minded people who inspire personal growth.
---
🔍 Wisdom Unpacked
Delving deeper into the key ideas.
1. Nonconformists in tech and startups value independence, optimism, and learning.
The tech and startup world often attracts nonconformists who value independence and autonomy. These individuals, often early employees, are optimistic and confident in their abilities, believing they can accomplish anything and learn whatever needs to be learned. They respond well to challenges and are willing to bend the world a little bit. It's important to surround yourself with like-minded nonconformists who inspire you to level up. Joining an early-stage startup instead of a big company can be a good move as you're more likely to find like-minded people. However, it's important to avoid status games in startups and focus on finding your people.
Dive Deeper: Source Material
---
2. Startups have evolved from nonconformist to mainstream, but conformity is now the norm.
The history of technology, Silicon Valley, and startups has evolved from a domain of nonconformists to a mainstream, almost cool, industry. This shift has transformed a place once populated by weird people into something almost opposite. When hiring for startups, it's important to look for non-conformists and non-normal individuals. However, today, big tech has become like finance, consulting, and medicine, where college kids obsess over getting jobs at Facebook and Google, studying how to interview and brag about their bonuses and levels.
Dive Deeper: Source Material
---
3. Tech startups have shifted from non-conformist to conformist, driven by financial gains.
The perception of tech startups has shifted over time, from a space for non-conformists to a conformist field. Many people now pursue careers in big tech for its structure, status, and financial gains, often seeking approval from investors. However, this trend is not limited to tech, as it also applies to other fields like finance and professional jobs. The numbers of people studying computer science and writing code are not always indicative of their actual interest in the field. Many students see CS as a label or status thing to get the career they want.
Dive Deeper: Source Material
---
4. Startups, especially YC, foster non-conformist growth through challenges.
The startup scene, particularly Y Combinator, has traditionally been a home for non-conformists who seek to challenge themselves and build without caring about status. However, this environment is changing, and founders are now more focused on solving customer problems and not getting distracted by external factors. Many founders have high expectations when they join YC, but they often don't meet those expectations initially. However, some founders embrace the challenge and see it as an opportunity to grow. They are excited about the difficulty and the opportunity to raise their bar. They understand that there is no immediate recognition or promotion, but they are motivated by the idea of testing their abilities and pushing themselves to be better.
Dive Deeper: Source Material
---
---
💡 Actionable Wisdom
Transformative tips to apply and remember.
To navigate the changing landscape of the tech and startup world, focus on finding your tribe of like-minded nonconformists who value personal growth and challenging the status quo. Surrounding yourself with these individuals will inspire you to level up and stay true to your values. Remember, success is not about external recognition or promotion, but about continuously testing your abilities and pushing yourself to be better.
---
📽️ Source & Acknowledgment
This post summarizes Y Combinator's YouTube video titled "The Cult of Conformity in Silicon Valley". All credit goes to the original creator. Wisdom In a Nutshell aims to provide you with key insights from top self-improvement videos, fostering personal growth. We strongly encourage you to watch the full video for a deeper understanding and to support the creator.
---