Y Combinator
The Hard Conversations Founders Don't Want to Have
The Power of Honest Conversations and Challenging Assumptions.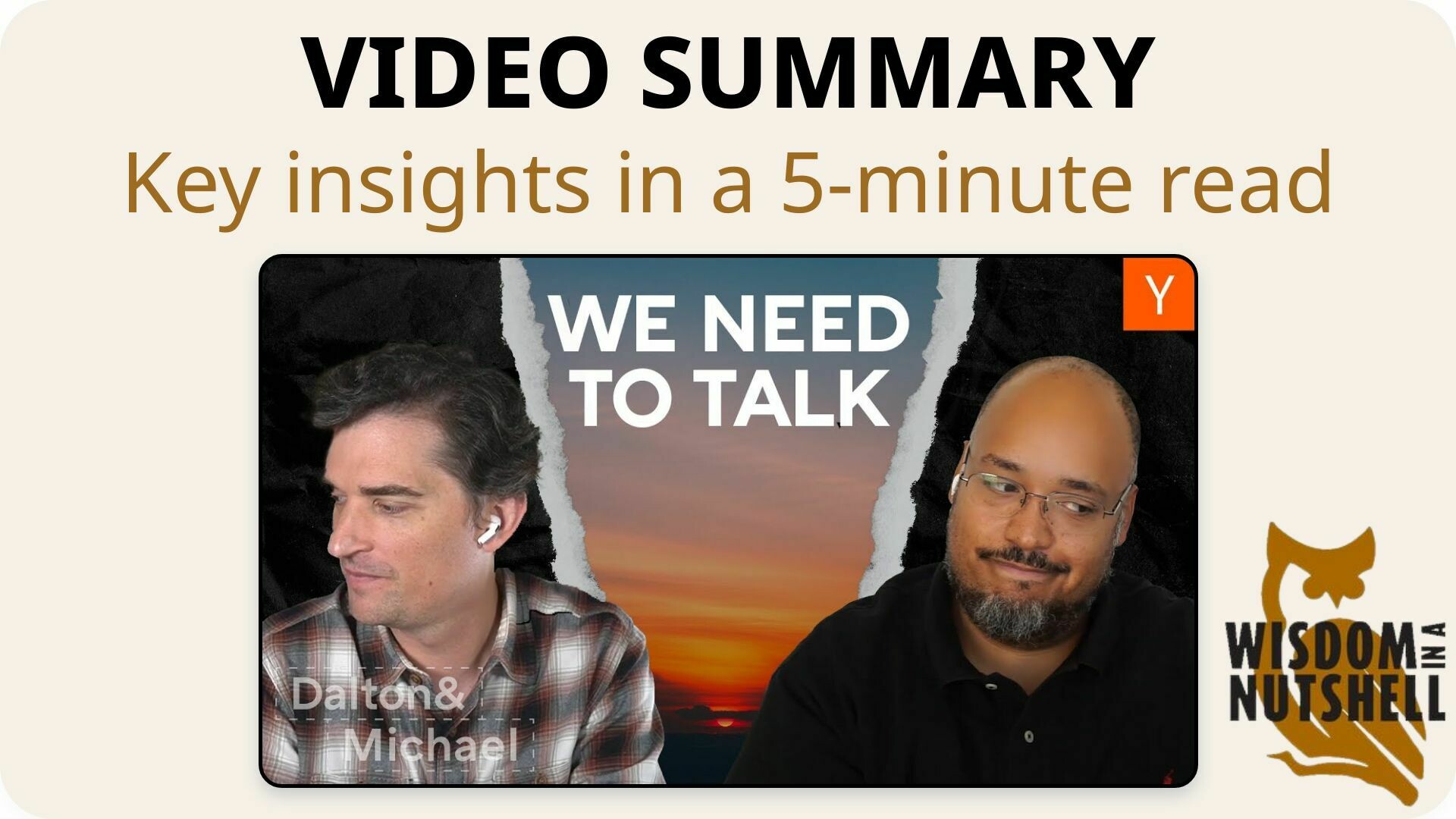 🌰 Wisdom in a Nutshell
Essential insights distilled from the video.
---
---
📚 Introduction
In this blog post, we explore the importance of honest conversations and challenging assumptions in various aspects of life. From being a YC partner to personal growth, we uncover valuable insights that can help us navigate difficult situations and foster deeper connections.
---
🔍 Wisdom Unpacked
Delving deeper into the key ideas.
1. YC partnership involves learning from mistakes and giving advice.
Being a YC partner involves making mistakes and learning from them. It's important to know the way out and be able to give advice to founders. In this episode, we discuss the challenging conversations that founders often avoid.
Dive Deeper: Source Material
---
2. Hard conversations are crucial for growth and progress.
A hard conversation is one that involves high stakes, vulnerability, and potentially making someone uncomfortable. It's a crucial aspect of growth and progress, especially in a startup environment. As a startup advisor, it's important to have honest conversations and express your opinions, even if it's not enjoyable for the founder.
Dive Deeper: Source Material
---
3. Honest conversations are key to true friendship and personal growth.
The essence of true friendship lies in having honest conversations, even when they're difficult. Surrounding yourself with people who are unable or unwilling to be honest is a bad situation. Agreeing with someone and mirroring their body language may make them like you, but it's not very helpful. It's important to have open and honest conversations, even if they're uncomfortable, as they can lead to personal growth and deeper relationships.
Dive Deeper: Source Material
---
4. Founders often seek validation in their decisions, but the underlying question is about insecurities.
In office hours, founders often come with a decision already made, seeking validation. However, the underlying question is often about addressing insecurities or seeking validation. It's crucial to understand that the actual question may not be the one being asked. This theme is common, where founders have a different question than the one they initially present.
Dive Deeper: Source Material
---
5. Plan for the worst to surprise on the upside.
When faced with the possibility of not raising the desired amount of money or executing an ambitious spending plan, it's crucial to have a plan for the worst. This involves setting low expectations and preparing for the worst. This approach allows for surprise on the upside, similar to having a parachute on a flight. It's better to be prepared and have a plan, even if it's not the ideal scenario.
Dive Deeper: Source Material
---
6. Advising involves understanding underlying reasons and direct communication.
The process of advising and giving advice can be complex, with underlying reasons for seeking advice. It's crucial to understand these reasons and address them directly. For instance, a lack of confidence in one's ability to give advice or a desire to build a relationship may be the reason. It's also important to directly communicate with customers to gain a deeper understanding of their needs. Additionally, it's necessary to push back against laziness and emphasize the importance of productivity. Hard conversations with co-founders are also a part of the process, and it's important to address any issues and work towards success.
Dive Deeper: Source Material
---
7. Co-founders need to develop a healthy disagreement skillset.
The ability to disagree and release tension without damaging a relationship is a crucial skill for co-founders. It's like a pressure release valve that needs to be opened and closed at the right time. This requires understanding how others handle conflict and being willing to take a step back when necessary. It's important to have a base relationship or personal connection to maintain respect and avoid irreparably harming the relationship. Learning how to disagree and release the pressure of the disagreement without damaging the relationship is a skill that needs to be developed.
Dive Deeper: Source Material
---
8. Honest conversations with employees are crucial for a healthy work environment.
Having open and honest conversations with employees, even about difficult topics, is crucial for a healthy work environment. It's important to address issues promptly, as employees often know something is wrong and expect the boss to address it. Avoiding hard conversations doesn't benefit anyone. Good startup employees want honesty and transparency, and sharing bad news can actually motivate them to find solutions. It's bad when employees are clueless about the company's situation.
Dive Deeper: Source Material
---
9. Self-awareness and self-acceptance are key to personal growth.
The essence of personal growth lies in having honest conversations with oneself, questioning beliefs and assumptions, and not avoiding difficult topics. It's important to understand that everyone has their own struggles, and it's okay to make mistakes. This mindset of self-awareness and self-acceptance can lead to a more positive and empowering life.
Dive Deeper: Source Material
---
10. Mentors offer practical solutions, not superficial fixes.
The analogy of a character struggling with PTSD and a supportive character jumping into the well to help them out is similar to the role of a YC partner. The partner, who has experienced similar struggles, understands the pain and knows the way out. This is similar to the role of a mentor or coach who has gone through the same challenges and can offer guidance and support. The key is to provide a deeper understanding of the problem and offer practical solutions, rather than superficial solutions like seeing a psychiatrist or getting a prescription.
Dive Deeper: Source Material
---
---
💡 Actionable Wisdom
Transformative tips to apply and remember.
Take the time to have open and honest conversations in your daily life. Whether it's with a friend, a colleague, or even with yourself, embracing vulnerability and addressing difficult topics can lead to personal growth and stronger relationships. Don't shy away from challenging assumptions and seeking deeper understanding. Remember, the discomfort of a hard conversation is often a sign of its importance.
---
📽️ Source & Acknowledgment
This post summarizes Y Combinator's YouTube video titled "The Hard Conversations Founders Don't Want to Have". All credit goes to the original creator. Wisdom In a Nutshell aims to provide you with key insights from top self-improvement videos, fostering personal growth. We strongly encourage you to watch the full video for a deeper understanding and to support the creator.
---