Y Combinator
VMware Cofounder Diane Greene with Jessica Livingston at the Female Founders Conference
Insights from the Journey of a Silicon Valley Entrepreneur.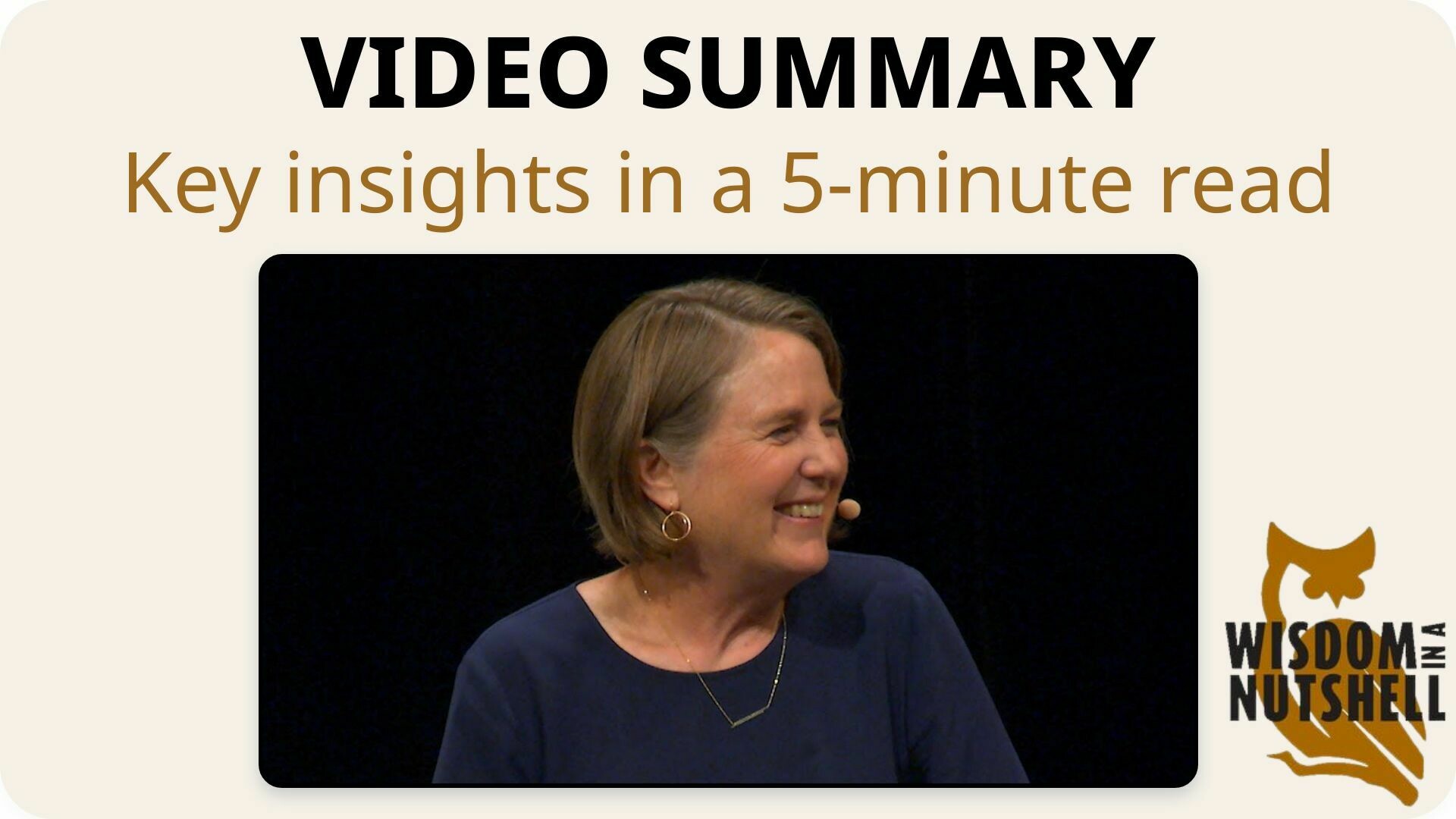 🌰 Wisdom in a Nutshell
Essential insights distilled from the video.
---
---
📚 Introduction
In this blog post, we will explore the journey of a Silicon Valley entrepreneur who co-founded VMware and went on to start their own company, Bebop. We will uncover valuable insights and lessons learned from their experiences in the tech industry, fundraising, decision-making, and the importance of people. Join us as we dive into the world of innovation and entrepreneurship in Silicon Valley.
---
🔍 Wisdom Unpacked
Delving deeper into the key ideas.
1. Exciting times in the late '90s for VMware revolution.
Starting VMware in the late '90s was an exciting time, with the opportunity to revolutionize the industry. The speaker has a list of questions and we'll explore how many we can answer.
Dive Deeper: Source Material
---
2. Silicon Valley in '98: a hub of innovation and growth.
In 1998, Silicon Valley was a hub of innovation and growth, with many startups and companies emerging. It was a time of optimism and excitement, with the potential for significant advancements in technology and business.
Dive Deeper: Source Material
---
3. Silicon Valley is a hub for innovation and entrepreneurship.
Silicon Valley is a hub for innovation and entrepreneurship, where individuals can explore and develop their ideas. It's a place where people can start their careers and gain valuable experience. The speaker, who started with VMware in Silicon Valley, shares their desire to learn more about the experiences and opportunities in this region.
Dive Deeper: Source Material
---
4. Starting a company requires understanding and fundraising from the right investors.
The co-founder of VMware, a professor at Stanford, started the company by working with grad students and taking their research to market. They faced challenges in getting business side people on board, but engineers understood their technology. They fundraised by doing a friends and family seed fund and then bringing in outside investors who deeply understood their work. They got Andy Bechtelschime and John Hennessey as investors, who were both phenomenal engineers. When the co-founders wanted to sell the company, the speaker initially hesitated, but in hindsight, they're glad they left VMware because they would have missed out on valuable time with their kids.
Dive Deeper: Source Material
---
5. Ideas can grow in value, and their potential should be recognized.
The value of an idea can be understood and appreciated over time. It's similar to the Google story where a check was written for $100,000, but the recipient received $300,000 instead. This highlights the potential for ideas to grow in value and the importance of recognizing their potential.
Dive Deeper: Source Material
---
6. Personal anecdote highlights family bonding and entrepreneurial journey.
The speaker shares a personal anecdote about finding a car in their driveway and convincing their mother to live with them, raising their daughter together. They also mention staying at high-end hotels and hiring nannies to take care of their child.
Dive Deeper: Source Material
---
7. Prioritize your own goals and values in decision-making.
The speaker shares a valuable lesson from their previous startup, where they prioritized their own goals over external pressure. They realized that it was important to make decisions based on their own vision and values, rather than letting others dictate their actions. This lesson has been applied in their next startup, allowing them to make decisions that align with their own goals and values.
Dive Deeper: Source Material
---
8. People are the key to success in Silicon Valley companies.
The success of companies like Google and Intuit can be attributed to their emphasis on people. Silicon Valley's culture places a strong emphasis on the importance of people, and this is reflected in the operations and board meetings of these companies. While they share some similarities, they are also distinct in their approaches.
Dive Deeper: Source Material
---
9. Convincing friends and having diverse perspectives can lead to successful ventures.
The speaker's journey to founding a company, Bebop, involved convincing friends from VMware to join as founders. This was after she had tried to convince others to start a company in the enterprise application space, which she believed was complicated and required attention. The speaker also highlights the significance of having women on the board, as it can make a difference in conversations and decision-making.
Dive Deeper: Source Material
---
10. Advancements in machine learning simplify enterprise software, improving user experience.
The lack of user-friendly enterprise software led to the realization of the need for simplification and automation. With advancements in machine learning and automation, it is now possible to provide rich functionality and simplify the user experience. This approach is being adopted by companies like Google G Suite, and the decision to pursue this ambitious plan was influenced by involvement in Google's cloud efforts and a friendship with a key figure in building Google.
Dive Deeper: Source Material
---
11. Experience with AI led to unexpected career shift.
The speaker's experience with Google's technology and AI led them to help the company find a suitable candidate for Google Cloud. However, the last person they suggested was not hired. Instead, the speaker decided to make it work for Bebop, a company they were involved with.
Dive Deeper: Source Material
---
12. Cloud companies are revolutionary, offering security and scale.
Running a cloud company is a revolutionary experience, with the enterprise moving fast and a few major cloud providers emerging. The cloud offers security and advanced technologies, and it's fascinating to see what can be built with scale. First-time founders should be aware of the importance of having a board of directors who can help and provide expertise.
Dive Deeper: Source Material
---
13. Choose board members with expertise and trustworthiness.
When selecting board members, it's crucial to choose individuals you can trust and who possess expertise in areas relevant to your business. For instance, if you're dealing with big companies, having someone with experience in structuring deals can be beneficial. It's important to approach potential board members with a clear explanation of your goals and how their expertise aligns with them. This approach can lead to valuable additions to your board, as demonstrated by the speaker's experience with Larry Suncini.
Dive Deeper: Source Material
---
---
💡 Actionable Wisdom
Transformative tips to apply and remember.
When starting a company, prioritize your own vision and values over external pressure. Surround yourself with a board of directors who can provide guidance and expertise. Choose board members who align with your goals and can bring valuable insights to the table. Additionally, recognize the value of people in your organization and create a culture that emphasizes their importance.
---
📽️ Source & Acknowledgment
This post summarizes Y Combinator's YouTube video titled "VMware Cofounder Diane Greene with Jessica Livingston at the Female Founders Conference". All credit goes to the original creator. Wisdom In a Nutshell aims to provide you with key insights from top self-improvement videos, fostering personal growth. We strongly encourage you to watch the full video for a deeper understanding and to support the creator.
---