Y Combinator
Why You Shouldn't Copy Your Tech Idols
Insights from Elon Musk and the Startup Industry.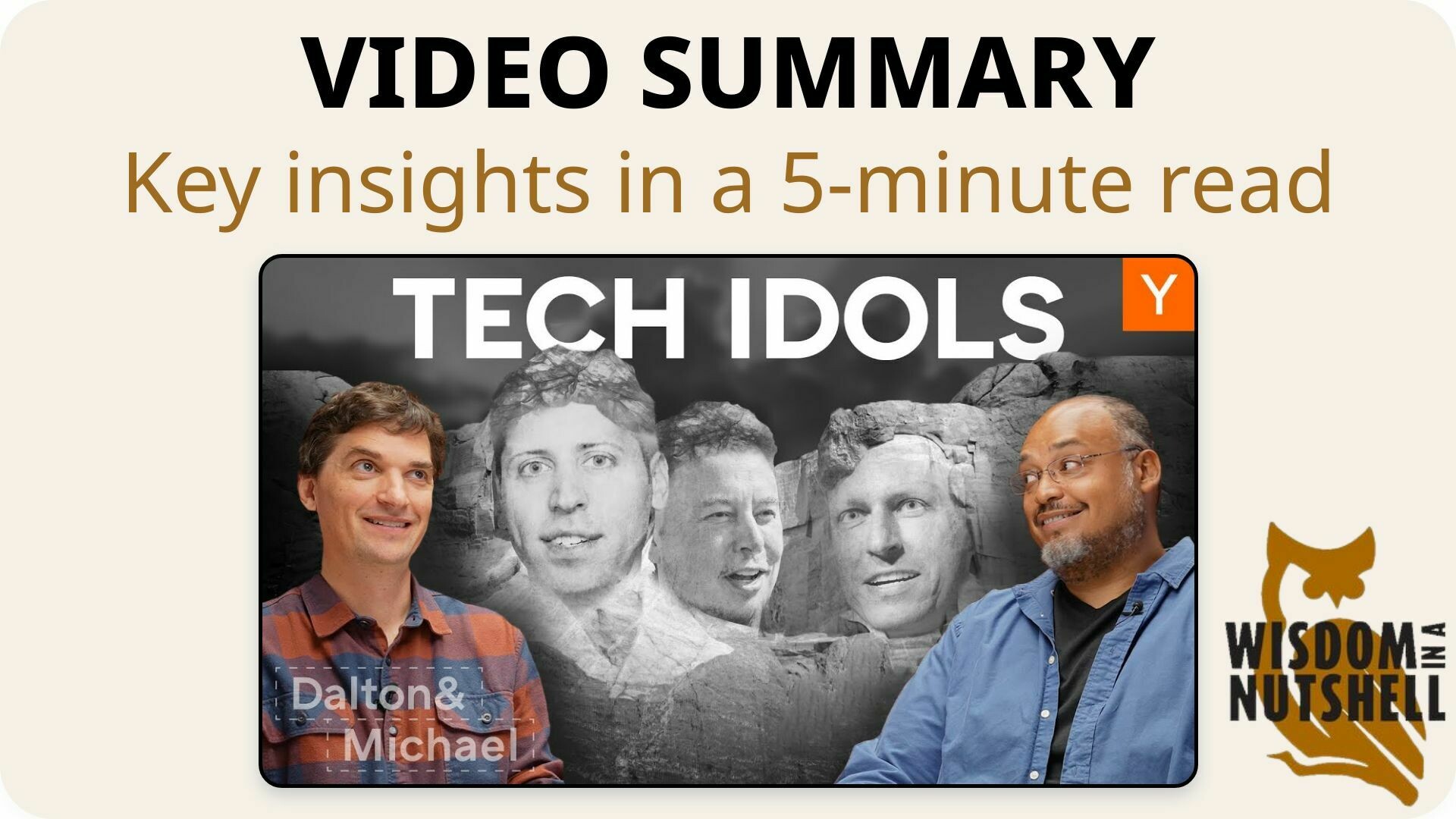 🌰 Wisdom in a Nutshell
Essential insights distilled from the video.
---
---
📚 Introduction
In the world of startups and entrepreneurship, there are valuable insights to be gained from successful individuals like Elon Musk. From the journey to success, the process of giving advice, the importance of starting small, the ambition of founders, to the value of college, each topic provides unique perspectives and lessons. Let's dive deeper into these insights and uncover the wisdom they hold.
---
🔍 Wisdom Unpacked
Delving deeper into the key ideas.
1. Success involves a two-step process of learning, adapting, and leveraging successes.
The journey to success, as exemplified by individuals like Elon Musk, is often a two-step process. It involves starting successful businesses, leveraging those successes to invest in new ventures, and continuously learning and adapting. This process requires a deep understanding of the industry, a strong network, and the ability to execute. It's important to remember that even the most successful individuals, like Elon Musk, started as mere mortals and had to work their way up. The key is to learn from their experiences and strategies, and to take the time to understand their histories and impact.
Dive Deeper: Source Material
---
2. Personalized advice, honesty, and context are key in the startup industry.
The process of giving advice, especially in the startup industry, involves considering the individual's background and situation. It's crucial to provide personalized advice, not just standard advice, and to be honest about the challenges and potential risks involved. It's also important to question advice from successful individuals, as their success may not be based on the same strategies they suggest. Sharing personal stories and experiences can add nuance to advice and make it more relatable. Lastly, when consuming content, it's important to remember that it's not personalized for us individually.
Dive Deeper: Source Material
---
3. Start small, build a network, and consider feasibility before scaling.
The journey of a successful startup often involves starting small and building a network, as seen in the case of Looped, a mobile social product. It's important to consider the feasibility of raising $100 million before pursuing a similar path. The advice given to people who can't do what the speaker did is different. It's crucial to remember that starting a lab and raising $100 million is not necessary to emulate the speaker's path. The fact story and the exciting opportunities in both the world of atoms and YRP should also be considered.
Dive Deeper: Source Material
---
4. Founders should aim for impact, not just success.
The ambition of founders should be to fix, save, and even go to space, as this is a desirable goal. However, not all founders may have this ambition. It's important to note that this is not a requirement for success, but rather a desirable mindset for those who want to make a significant impact.
Dive Deeper: Source Material
---
5. Education and personal experiences shape future success.
The value of college is a topic of debate, with some questioning its relevance. However, it's important to consider individual circumstances and goals when making decisions about education. It's also crucial to understand the impact of experiences, such as college and law school, on future success. Advice is often influenced by personal experiences and what the person wishes they had done differently. Therefore, it's important to dig for the facts and understand the true circumstances before making decisions.
Dive Deeper: Source Material
---
---
💡 Actionable Wisdom
Transformative tips to apply and remember.
When seeking advice or learning from successful individuals, always consider your own background and situation. Personalize the advice to fit your unique circumstances and be aware of the potential risks involved. Start small and build a strong network before pursuing ambitious goals. Remember that ambition is a personal choice, and success can be achieved in different ways. Lastly, when making decisions about education, consider your individual goals and the impact of experiences on your future success.
---
📽️ Source & Acknowledgment
This post summarizes Y Combinator's YouTube video titled "Why You Shouldn't Copy Your Tech Idols". All credit goes to the original creator. Wisdom In a Nutshell aims to provide you with key insights from top self-improvement videos, fostering personal growth. We strongly encourage you to watch the full video for a deeper understanding and to support the creator.
---