Y Combinator
YC Founders Made These Fundraising Mistakes
Insights for Startup Success and Personal Growth.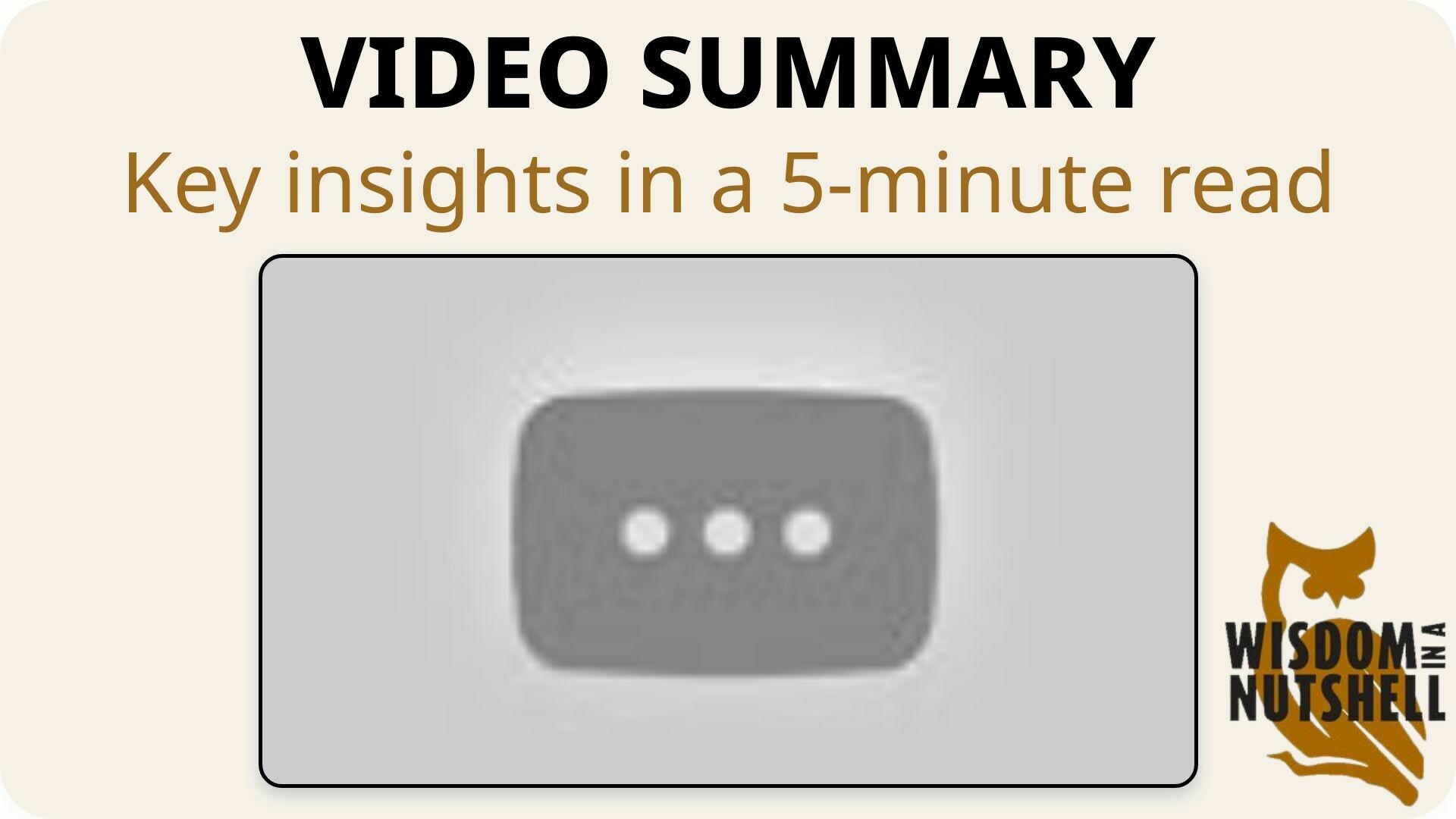 🌰 Wisdom in a Nutshell
Essential insights distilled from the video.
---
---
📚 Introduction
In the world of startups, success is often measured by growth metrics and attracting investors. However, there are important lessons to be learned about prioritizing customers, staying lean, and focusing on profitability. This blog post explores these insights and how they can also apply to personal growth and success.
---
🔍 Wisdom Unpacked
Delving deeper into the key ideas.
1. Growing metrics attract investors; have a product before fundraising.
Having a growing metric is crucial for attracting investors. It's recommended to have a product or MVP with customers before fundraising, as it gives more leverage in negotiations. When a startup is not growing, it's difficult to attract investors, but when it's growing, well-known VCs are eager to talk to them.
Dive Deeper: Source Material
---
2. Prioritize customer satisfaction over investor validation in startups.
Fear-based decision-making can lead to fundraising before launching a product, but it's crucial to prioritize pleasing customers over investors. This mindset, often ingrained in traditional paths, doesn't apply to startups. Being customer-obsessed means prioritizing customer satisfaction in your waking hours.
Dive Deeper: Source Material
---
3. Early stage founders should focus on customers, raise only what's needed, and innovate for growth.
As an early stage founder, it's crucial to spend significant time talking to customers and building the product, with at least 80-90% of waking hours dedicated to these tasks. It's also important to raise only what is needed and stay lean, as excessive funding can hinder innovation and growth. Successful companies rely on revenue from their customers for growth, and founders who own more of their companies tend to be happier and more innovative.
Dive Deeper: Source Material
---
4. Emulate successful companies for personal growth and profitability.
The success of companies like Facebook and Google serves as a valuable comparison for ambitious individuals. These companies were profitable from the start, with ads on their platforms generating revenue. This highlights the importance of focusing on profitability rather than solely chasing unicorn valuations. Emulating successful companies and choosing your peers wisely can be a powerful strategy for personal growth and success.
Dive Deeper: Source Material
---
---
💡 Actionable Wisdom
Transformative tips to apply and remember.
Prioritize customer satisfaction and spend ample time talking to customers and building your product. Avoid excessive funding and focus on profitability. Emulate successful companies and choose your peers wisely for personal growth and success.
---
📽️ Source & Acknowledgment
This post summarizes Y Combinator's YouTube video titled "YC Founders Made These Fundraising Mistakes". All credit goes to the original creator. Wisdom In a Nutshell aims to provide you with key insights from top self-improvement videos, fostering personal growth. We strongly encourage you to watch the full video for a deeper understanding and to support the creator.
---